Welcome to Clearwater
Widely considered one of the best beach communities on the entire east coast, Clearwater has become one of the most attractive cities in Florida. With fantastic year-round weather, glorious sandy beaches, and some of the best ocean views, residents often feel lucky they're able to live in what many consider the perfect place to call home.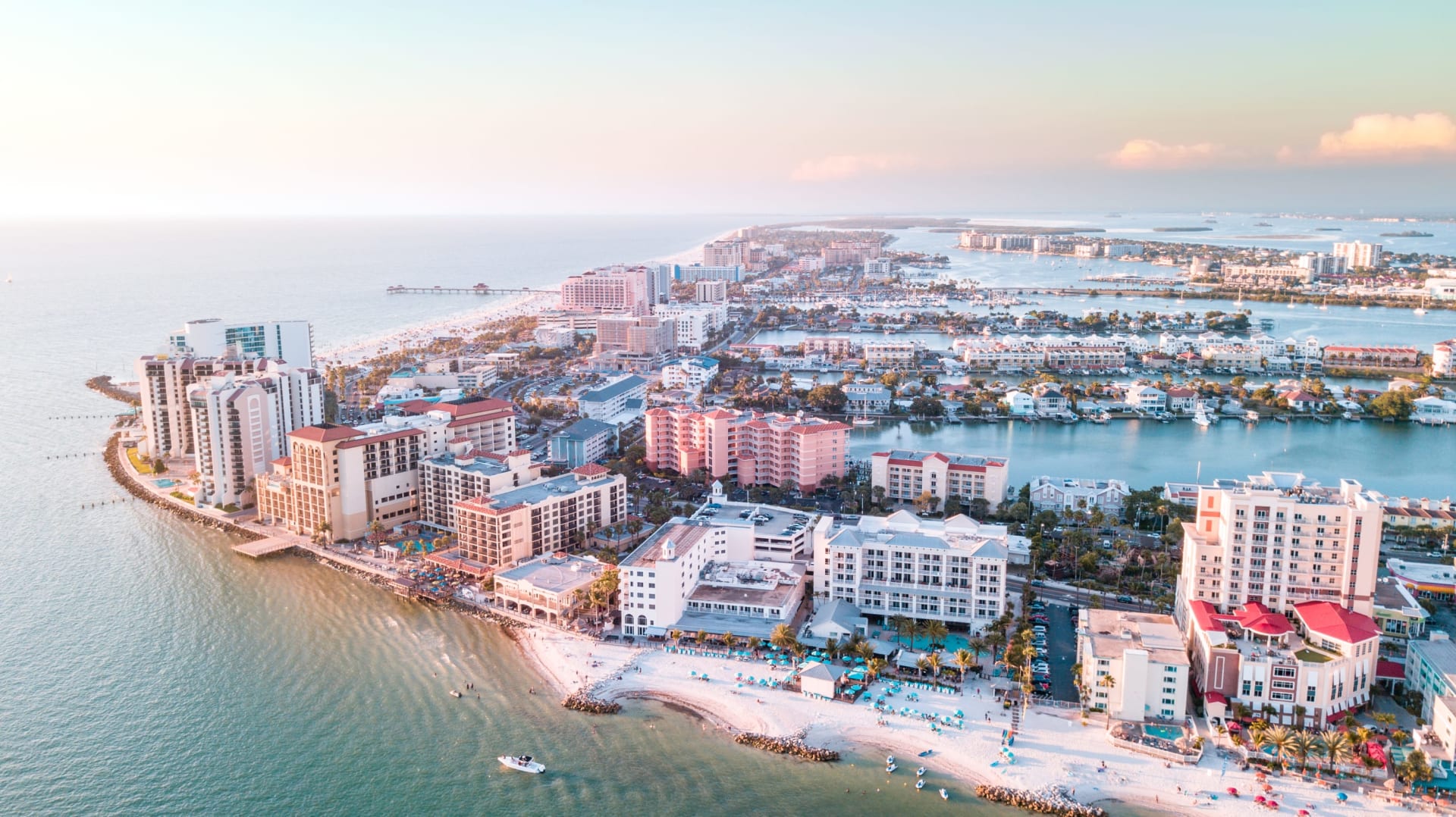 A panoramic view of Clearwater Beach, Florida.
Made up of several diverse and unique neighborhoods, finding the ideal location to settle down can sometimes feel like a challenge until you understand the vibe and personality of each city section. Clearwater Beach is action-packed and always active, with some of the best entertainment venues, restaurants, and bars in the entire city. On the opposite end of the spectrum is Feather Sound. This predominantly residential area is known for its peaceful and family-friendly atmosphere which has made it an especially popular location for families with small children.
Safety Harbor is known for its waterfront views and vibrant social scene. With various events and festivals taking place throughout the year, this neighborhood feels more like a separate small town than part of a larger busy city. Dunedin's quaint personality with charming Scottish flair has made it one of the most desirable neighborhoods around.
What to Love
Wide range of community personalities and styles

World-class beaches and waterfront views

Charming small-town lifestyle
Local Lifestyle
Clearwater has a little something to offer every resident living in the area, whether they'd prefer to spend the day down at the beach, meandering through the shops and cafes spread throughout town, or enjoying any of the new shows taking place in one of the several galleries and venues spread throughout the city.
There is also a distinct appreciation for living a more active lifestyle throughout the various communities. Residents can often be found taking advantage of the various parks, fitness areas, walking paths, and biking tracks in the area.
Dining, Entertainment & Shopping
The Clearwater dining scene is, without a doubt, one of the best around, with several highly-rated restaurants and outstanding eateries throughout the various communities.
The Black Pearl
i

n Dunedin is definitely a local favorite. This upscale fine-dining eatery offers a unique take on New American cuisine with dishes like white truffle lobster risotto, pork belly with white cheddar cheese grits, crispy pan-seared duck breast with leg confit ravioli, and an unbelievable Chilean sea bass Lyonnaise.
Also located in Dunedin is the
Sonder Social Club
, arguably the best place in all of Florida for hand-crafted cocktails. With a food menu that constantly evolves to match their one-of-a-kind cocktail menu, guests can rest assured they're in for a treat with each and every visit.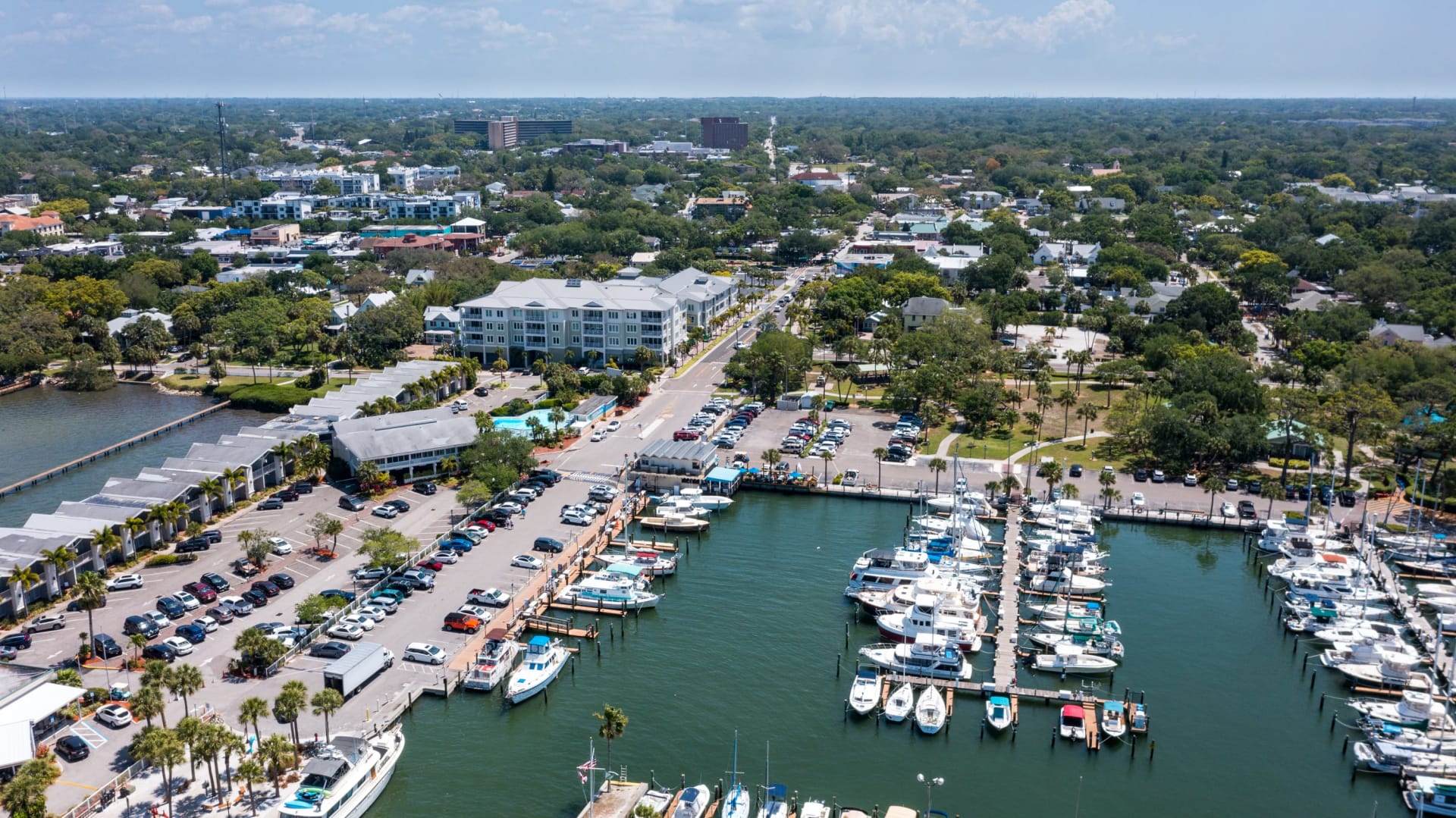 An aerial view of Dunedin, Florida.
When Clearwater residents are in the mood for exceptional seafood, they known they'll have to stop by
Frenchy's
. This world-class seafood market ensures visitors have the best selection of local seafood and specialty goods every single day.
Things to Do
Clearwater residents are easily able to enjoy the plethora of activities, festivals, and entertainment found in the area throughout the year, another one of the reasons why this area has become so highly attractive. The
Pier 60 Sugar Sand Festival
is one of the most highly anticipated events of the year, bringing together artists and street performers from across the state. The number one sand sculpting festival in Florida, guests can also enjoy an up-close and personal look at some of these amazing creative feats.
The Tampa Bay Blues Festival
is another beloved event. With some of the world's best Blues artists from around the world coming together to take part in this unique festival, Blues fans can rest assured they'll experience a musical weekend like no other. Golf aficionados will certainly enjoy being so close to the
Palm Harbor Valspar Championship
,

one of the most challenging golf championships in the state.



Caladesi Island And Honeymoon Island outside Dunedin, Florida.
Our Favorite Areas
Clearwater - this diverse community is rich in history, culture, and the arts, and is home to Ruth Eckerd Hall.

Clearwater Beach - is action packed, and known for having entertainment, nightlife, good food and fun.

Dunedin - this local favorite is a waterfront neighborhood with a quaint downtown with that has a Scottish flair. You'll find breweries, farmer's markets, and festivals in Dunedin. It's also golf cart community!

Feather Sound

- this neighborhood is

residential, family friendly, and conveniently close to Tampa.

Safety Harbor

-

Safety Harbor is a Tampa Bay waterfront community with main street hosting seasonal festivals, and quality restaurants. It also features the renown Safety Harbor Spa.
Schools
Clearwater residents take great interest in the quality education of local children, which has resulted in a number of highly-rated public and private schools in the area. The
Plato Academy Clearwater
, a K-8 Charter school, is one of the most prestigious and respected in the area.
Palm Harbor University High School
and
East Lake High School
are both nationally recognized and highly-rated public high schools known for exceptional academics and extracurricular activities.