Welcome to St. Petersburg
Unbeatable ocean views, an incredible social scene, and world-class cultural centers are synonymous with the glowing and vibrant city of St. Petersburg. But for homeowners looking to settle down permanently in this one-of-a-kind destination city, finding the perfect neighborhood to fit your needs is key. While a sense of liveliness and electricity permeates the entire area, each neighborhood has its own distinct personality, ensuring that everyone can settle in the home of their dreams.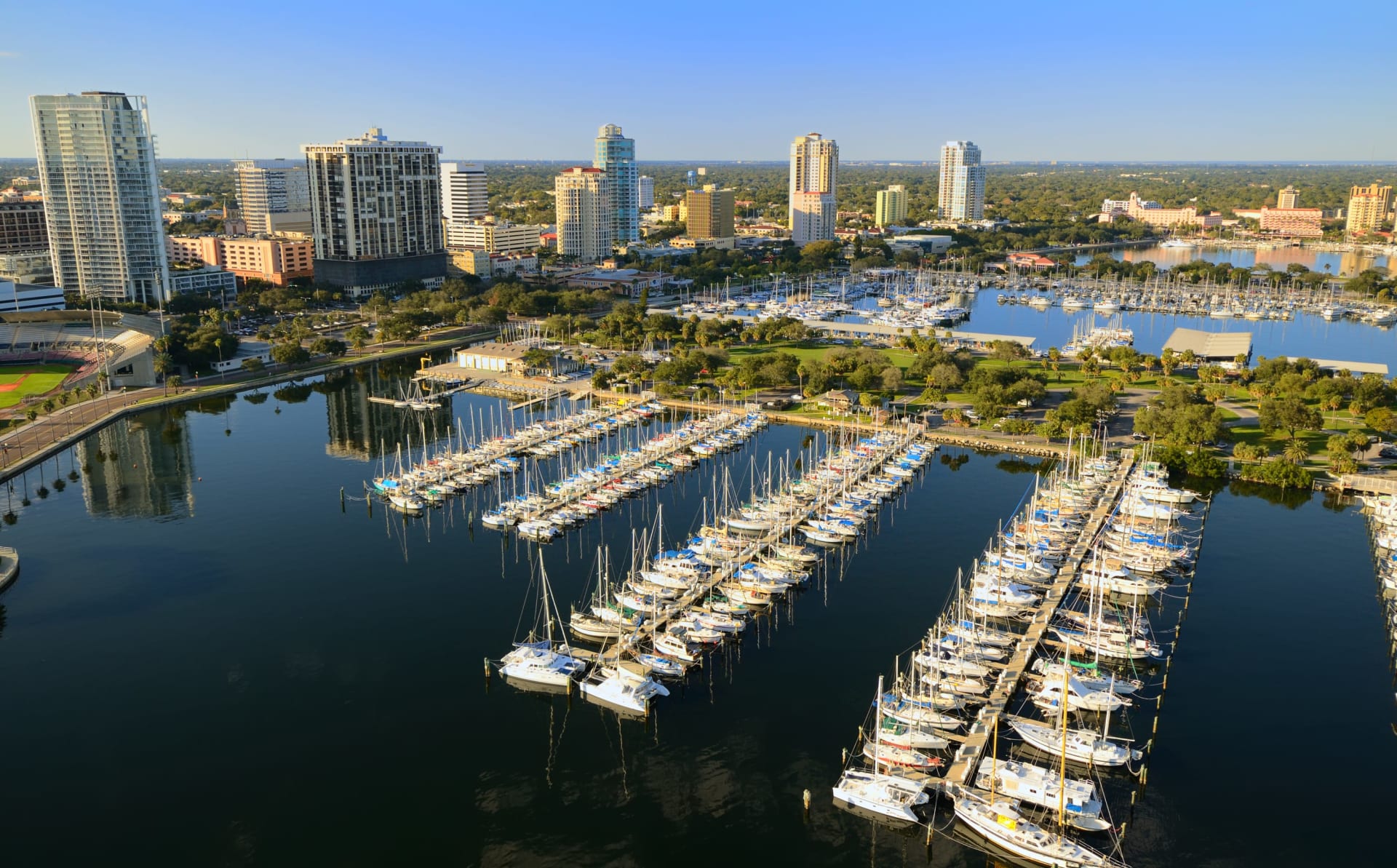 Aerial view of downtown St. Petersburg, Florida
Jungle Prada is one of the most eclectic and diverse neighborhoods in the city, with brick-lined streets leading up to a charming blend of mid-century bungalows, block homes, and sprawling oceanfront estates. Close to all the beautiful gulf beaches and a short drive from the bustling Downtown district, this beautiful neighborhood has become especially popular with younger families looking for a bit more space. Historic Kenwood is a pocket neighborhood of Downtown where homeowners will find the largest number of craftsman-style bungalows. Also an ideal location, homeowners here can quickly make their way towards either one of the state's best beaches or St. Pete's more thrilling urban setting.
Snell Island is the very definition of upscale and elegant. Just north of Downtown, this luxurious community is home to some of the priciest and most desirable real estate on the St. Petersburg market, with a quiet and peaceful atmosphere. Downtown, on the other hand, is as vibrant and lively as it can be. Filled with unique museums, outstanding galleries, and world-class dining destinations, this is the place to be in St. Petersburg, especially for the younger crowd looking to make the most of the exciting nightlife and weekly festivities.
What to Love
Local Lifestyle
St. Petersburg is filled with a wide range of world-class museums, cultural centers, outstanding restaurants, and unbelievable beaches, giving it an eclectic and energetic feel. Residents can easily spend their free time laying out on the sandy shores or making their way through any of the numerous art galleries throughout the city. The various neighborhoods and their distinct personalities allow the city to offer a little something for everyone.
Dining, Entertainment & Shopping
The dining scene in St. Petersburg is as diverse and exciting as the rest of the community, with a variety of exceptional eateries and popular restaurants on every corner. The
Green Bench Brewing Company
is a local favorite. A craft brewery with a vast selection of brews, including IPAs and ales, this exceptional dining destination takes the idea of a beer garden to the next level.
Urban Stillhouse
,

also in the Downtown neighborhood, is also wildly popular, with foodies traveling from around the state to try their take on New and Classic American cuisine. Their fantastic menu includes delights like crispy whole market catch fish with roasted corn salad, fig and hazelnut crusted Colorado lamb chops, and mouthwatering grilled octopus with romesco sauce.
Bandit Coffee Co.
is where most of Historic Kenwood chooses to start off their day. This minimalist chic cafe serves some of the best coffee in town, preferring to work with single-origin roasts, giving their beautiful drink that extra touch of something special.
Things to Do
St. Petersburg is known as one of the most fun and vibrant cities in Florida and is filled with a plethora of recreational activities, festivals, and events all year long for residents and guests to enjoy. The
Saturday Morning Market
in Downtown is a beautiful Farmers Market unlike any other. With over 125 different vendors, visitors will find artisan goods, handmade crafts, and everything in between.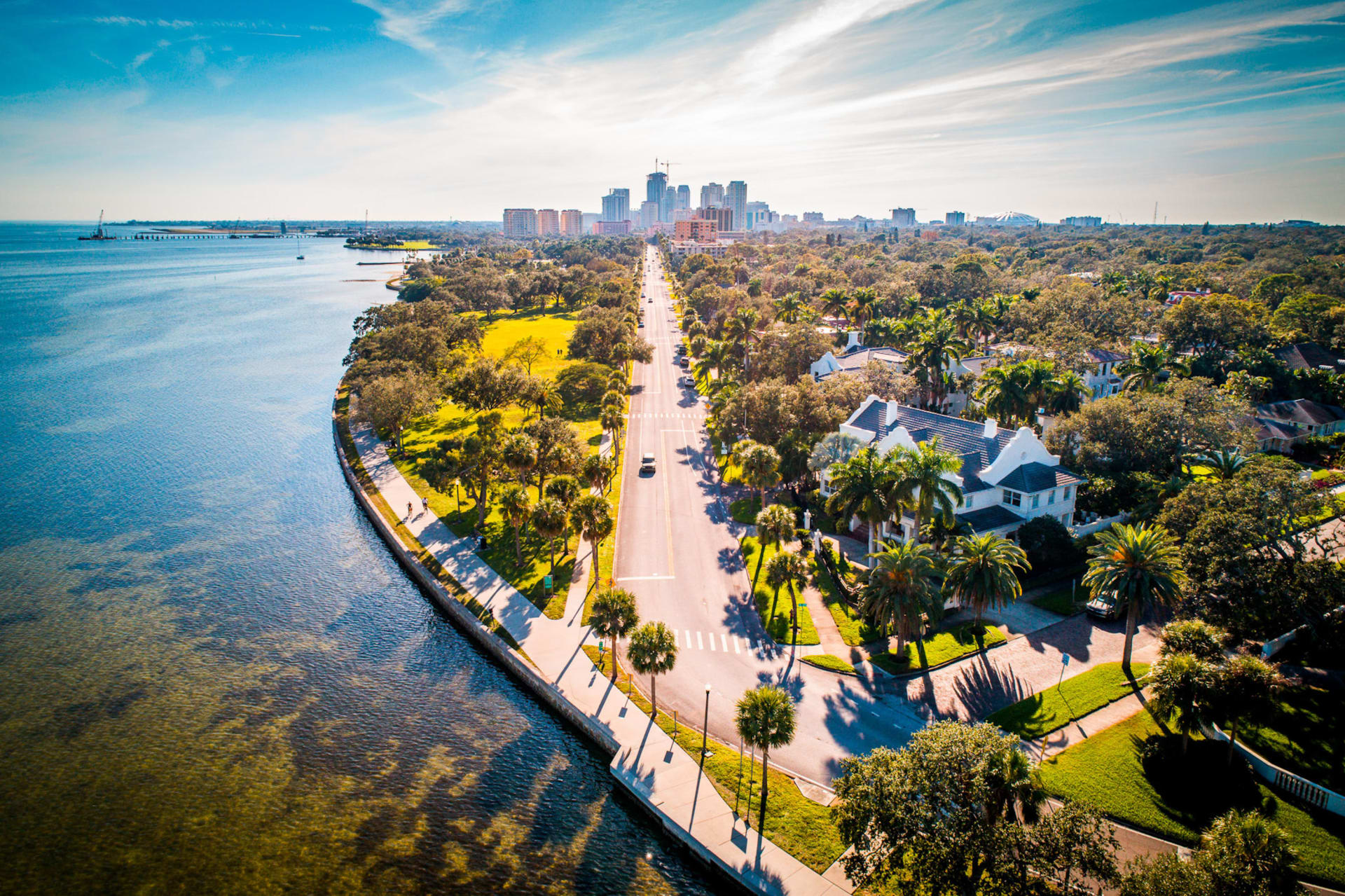 Snell Island is an upscale neighborhood north of Downtown St. Pete.
The Tampa Bay Rays'
Home Base is right here in St. Petersburg. The State's official Major League Baseball Team, the stadium is a great place to spend the day enjoying America's Pastime with the entire family.
St. Pete Pier
is another fantastic destination to spend the day out with loved ones. Filled with parks, recreational areas, and world-class shopping and dining, guests are sure to have the time of their lives whenever they visit.
Our Favorite Areas
Downtown - St. Pete's Downtown district is rich in culture, and boasts museums and art galleries, as well as a lively nightlife scene. Both the Tampa Bay Rays and the Tampa Rowdies call Downtown Home.

Historic Kenwood - this residential pocket of downtown is full of craftsman bungalows and large oak trees. Kenwood's convenient location is close to Downtown or Gulf Beaches.

Snell Island - is just north of downtown, this upscale neighborhood boasts the Par 71 Vinoy Golf Club and Snell Island Harbor.

Jungle Prada - brick-lined streets, peacocks, and a close proximity to Gulf Beaches and Downtown make Jungle Prada a desirable neighborhood.

Gulfport - this waterfront community has an Old Florida feel - and has an established art scene.
Schools
Education is a significant focus for St. Petersburg residents.
Shorecrest Preparatory,
one of the most respected and highly regarded Co-ed private schools in the country, is located right in the middle of St. Petersburg. There are also a number of higher learning institutions in the city, including
Eckerd College
,

a highly-rated liberal arts college, and the
University of South Florida,
St. Petersburg campus.