St. Petersburg, also known as St. Pete by the locals, is a city in Pinellas County, Florida. As of the 2020 census, its population is an estimated 271,842 people, making St. Petersburg is the fifth most populous city in Florida.

What makes this city so popular among locals and retirees is its beautiful waterfront properties. They are truly scenic and serene, like a watercolor painting. Waterfront properties will never lose their popularity or appeal because you can't get a permanent, scenic view that the water can get you everywhere. Waterfront properties have many uses — full-time homes, beach houses/vacation homes, or even rental properties. If you are interested in buying a St. Petersburg waterfront property, keep reading for some key things you should know!
Must-knows about St. Petersburg
As a whole, there are some things you should know before moving to St. Petersburg.
The job market in St. Petersburg is strong. There is only a
4.7% unemployment rate
, which makes St. Petersburg one of the best areas for employment in Florida — and the whole country. There is a cluster of Fortune 500 companies within the Tampa Bay Area, and there are many opportunities for those who work in the healthcare field.
The weather in St. Petersburg is known for being beautiful and offers sunny most days of the year. Of course, this goes for most of Florida, but St. Petersburg currently stands with 361 days of sunshine each year, earning it the nickname "The Sunshine City." St. Petersburg holds the Guinness World Record for most consecutive sunny days, so if you are a person who hates rain, this is the perfect place for you. And with such beautiful weather, living on a waterfront property makes it even better.
St. Petersburg is pretty easy to get around. It is organized in a grid format, with streets running north to south and avenues running east to west. This makes it pretty easy to navigate, whether you are a person who enjoys biking or simply driving. There are also well-received and reliable sources of public transportation for those who can't drive or prefer not to. St. Pete is one of the most convenient places to live in the state in terms of travel.
Flood insurance
When living on a waterfront or beachfront home, there are always things that you should know ahead of time. One of these things is having flood insurance.

In St. Petersburg, if you finance a home, you will be required to carry a flood insurance policy along with a regular homeowner insurance policy. If you are applying for a mortgage and you are unable to obtain flood insurance coverage, your application will be promptly rejected.

If you were to buy your home in cash and live in a waterfront property, it isn't necessary to get flood insurance. But while it is not an obligation for all waterfront homeowners to have a flood insurance policy, it is definitely recommended. There are chances of storm surges, and to ensure that everything is properly insured, you will need flood insurance since a homeowner's policy doesn't offer protection against damage from flooding waters or a storm surge.

Flood insurance policies can be obtained through the National Flood Insurance Program, or through a private insurance carrier. Private carriers tend to be more favorable since their rates tend to be lower and more affordable, but your best bet would be to contact a broker to review every available option in the area to see which will best fit you.

Living waterfront is beautiful, but the water and the weather can be unpredictable. It is always better to have a policy as your Plan A should something happen.
Waterfront rights and regulations
What most probable waterfront property owners don't know is that there might be some regulations that are specific to the waterfront community you live in. The best course of action would be to analyze and survey your property. It typically ends at the seawall, so one thing that you will need to do is figure out what is accessible to you.

When it comes to St. Petersburg, there are various regulations to be aware of. The best thing to do is enlist the help of a professional to search through the regulations of the specific waterfront community you are looking to buy in.

These regulations might involve the size of the dock you can keep on your property, the size of the boats you can keep on your property, and what water access you have as a homeowner. As a buyer, you can seek help from a real estate attorney to look through documents and provide advice.

This is an important research step, specifically if you plan on building a dock on your property or having a boat (of any size) that you plan on keeping docked on your property.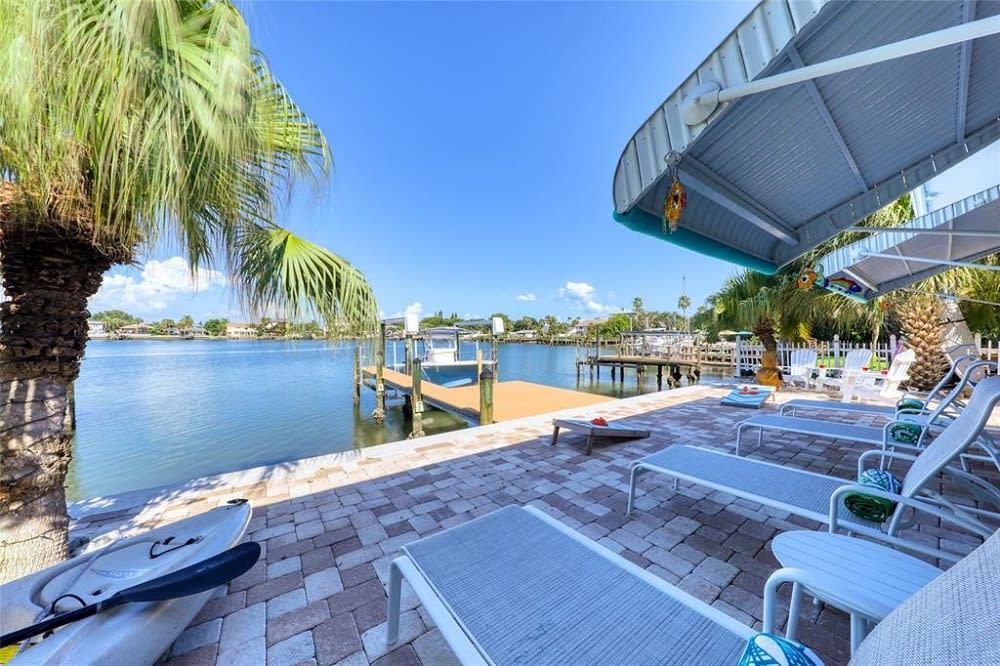 Resale value
Many waterfront properties are unique, and they don't all abide by the same rules. A property that has a direct water view will retain its value more than a home located on a canal, but a property that is directly on the beach will carry most of its value in the land and will be more expensive.

St. Petersburg real estate abides by these rules as well. There are different communities and different properties with different locations. If you were to ever sell your home, discuss with your real estate agent the best method of action since there are different home values for each different kind of property.

In terms of buying, the rules are pretty similar. Certain homes carry a higher price tag because their home value is higher due to their location. An agent will be able to analyze the values for you and help you determine what will fit you as a buyer best.
Is a St. Petersburg waterfront property a good investment?
All in all, yes, St. Petersburg waterfront property makes a good investment.

There is a strong potential for appreciation in most waterfront properties. They are typically among the highest in terms of appreciation, and they tend to be in very high demand. Waterfront properties generally tend to appreciate in value more over time than houses on drier land, and the possibility of being able to turn a profit if you resell in the future is high.

For waterfront rentals in St. Petersburg, there is a big investment potential there, especially within the Airbnb and self-rental environment — far higher rental potential than homes without a water view. The rent costs are typically higher as well, so it would be easier for investors to cover their ownership costs and even turn a decent profit.

And while it's not technically an investment ticket, the view is a huge reason why home buyers flock to waterfront homes. A permanent, beautiful view of the water from your back porch is a huge asset. Homes with a better view will always have a higher value, making them a good investment for personal homebuyers who will always experience premium views.
Want to know more about real estate in St. Petersburg?
If you are interested in St. Petersburg beach houses for sale or other St. Petersburg real estate, contact
Natalie Scott
for more information!